Are you about to make lasagna and don't know what wine goes with it? Maybe you are hosting a dinner party and want to make sure you pair the right wine with your lasagna?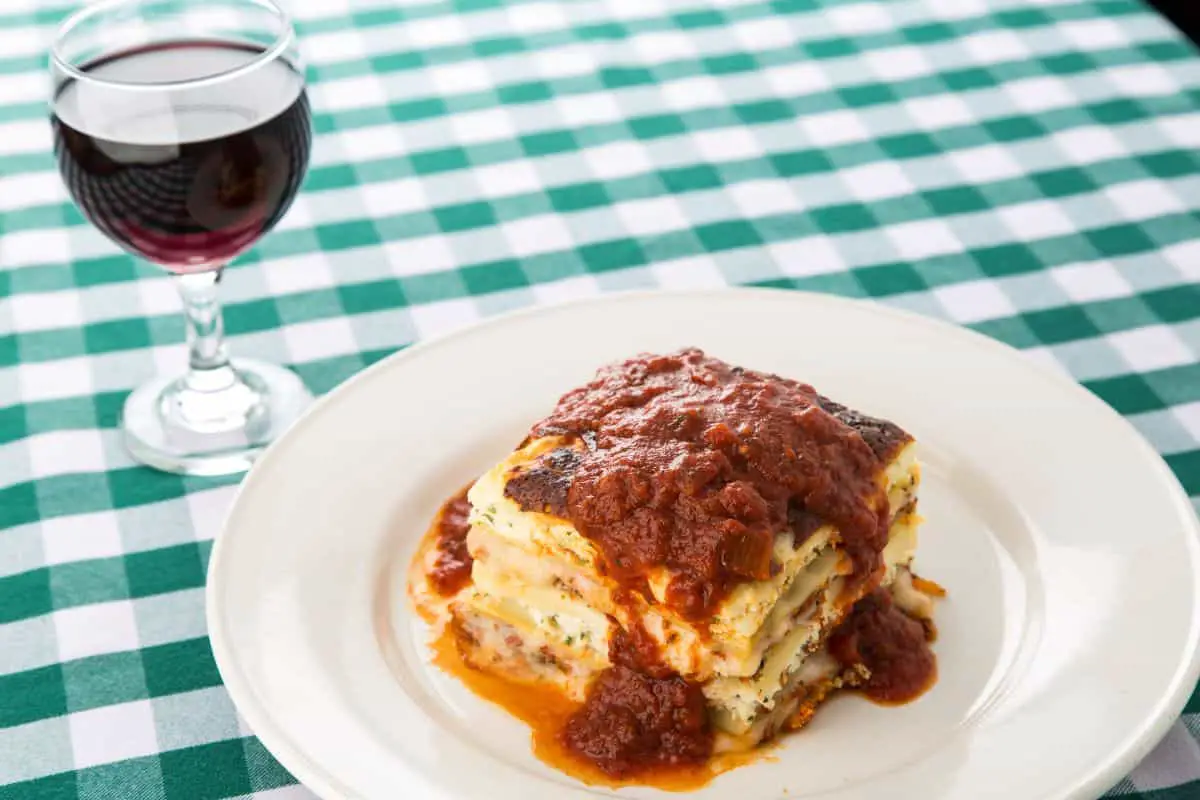 Or are you curious and want to know more? Whatever your reason might be, we have the answer for you!
We know how tricky it can be to pair wine with lasagna.
After all, the dish is packed full of flavors, and it can be hard to know what wine is going to suit all of those flavors, from the fresh herbs to the cheese, and the acidity of the tomatoes.
Knowing how to find a wine to suit all of these can be overwhelming. And when you head online for some help, you are met with conflicting advice!
You start to wonder if you will ever find out what wine goes with lasagna.
Well, no more! Today, we are here with the answers that you need. Just keep reading to find out what wine goes with lasagna and everything else that you need to know.
What Wine Goes With Lasagna?
When it comes to lasagna, an acidic and fruity red wine pairs perfectly with the hearty Italian dish!
The lasagna filled with layers of vegetables, meat, and cheese, needs a red wine with plenty of flavors that will match the great taste of your lasagna!
There are a few fantastic red wines that we think go perfectly with lasagna, so let's look at these now.
Zinfandel
First up, we have Zinfandel, a beautiful red wine that is bold, fruity, and smoky. It's popular in California and has a sweet and smoky taste that is often compared to BBQ sauce!
When you pair it with lasagna, you don't need to spend a lot!
Affordable to mid-ranged Zinfandels are the best to serve with your lasagna as they won't be as syrupy or have a high alcohol content like a more expensive Zinfandel will.
If you do have an expensive Zinfandel, we recommend pairing it with some beef covered in BBQ sauce, the syrupy taste will work well with the flavors in the sauce!
When you pair a Zinfandel with a lasagna, you will have enough fruit flavors to offer a refreshing contrast to your tomato sauce, lasagna noodles, and beef.
Typically, you will have blackberry, cherry, and raspberry in a Zinfandel, which combined with the smoky flavor will work well with the vegetables and cheese flavors.
There is also a hint of black pepper in the wine, which pairs well with the beef in your lasagna. It will also work well with any vegan-friendly mince in lasagna too!
Pinot Noir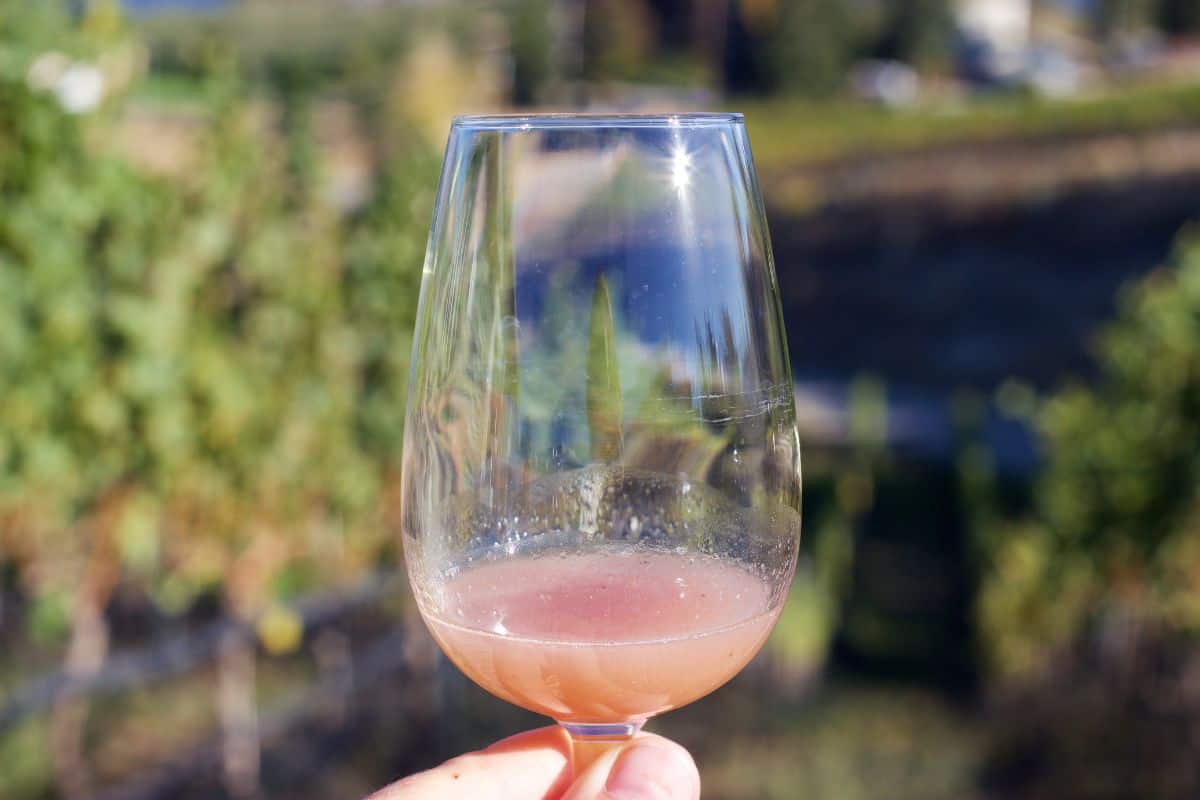 Next, we have Pinot Noir, a light and fruity wine that has flavors of strawberry and cherry that we are sure you will find refreshing!
Despite sometimes being aged in Oak, Pinot Noir is acidic enough to avoid clashing with the tomato sauce in your lasagna, making it an excellent pairing.
If you add mushrooms to your lasagna too, the earthiness in the Pinot Noir will pair beautifully with them.
Pinot Noir is an expensive wine, but trust us, you get what you pay for! Opt for a Pinot Noir from France, California, or New Zealand, and don't opt for the cheapest bottle there.
Purchase a mid-range Pinot Noir and you will enjoy some fantastic tasting wine!
Italian Barbera
Italian Barbera, if you guessed it, is popular in Italy! The wine is a red wine grape that is low in tannin and naturally acidic.
It's typically grown in Argentina, Australia, British Columbia, and California, but is hugely popular in Italy, where you see it in the Piedmont region.
Referred to as Barbera d'Alba is fuller bodied, or you have Barbera d'Asti, which is lighter-bodied and tends to be more acidic.
You also see this wine in Barbera del Monferrato, which is a more lean and acidic style using fresh red fruit flavors.
All of these Italian Barberas will taste like red and black cherry, and are best drunk fresh!
They are full of rustic flavors of spice, earth, and minerals, but don't worry, they aren't too powerful!
They do work well with the flavors of your tomato sauce in the lasagna, while the fruit flavor will be refreshing against the dense and layered flavors in your lasagna. It's such a good pairing!
Chianti Classico
Finally, we have the most popular pairing with lasagna, Chianti Classico.
It is one of the most famous Italian red wines and is packed full of herbal, earthy, and tart flavors you are sure to love.
The red and black cherry flavors will contrast well with your lasagna.
The acidity of the wine also helps to unclog your taste bud, making each bite fresh and extra tasty!
Whether it is your first or tenth bite into your lasagna, with this wine pairing, each bite is just as fresh and delicious as the first!
The wine has a smoky, earthy, and herbal quality that will work well with the vega and meat in your lasagna as well as the herbs.
It's a no-brainer in our opinion, you need to try it!
Can I Pair White Wine With Lasagna?
All of the pairings we have suggested are red wine, so what about white wine? Well, white wine does go with lasagna, but not as well as red wine will!
White wine won't compliment the savory flavors as red wine will.
But if you do want to pair it with white wine, we recommend that you use a Pinot Grigio.
The crisp and light white wine has some subtle flavors of peach, apple, pear, and minerals that combined with the high acidity will help to lift the flavors in your lasagna, meaning every ingredient gets showcased!
You can also use a prosecco or rose if you want, but keep them as dry as possible, as the tomato in the lasagna will give the meal all the sweetness it needs!
Final Thoughts
And there you have it, fruity red wines that are acidic go best with lasagna!
You can also use white wine, rose, or prosecco if you wish, just make sure they are dry and light so that you can enjoy the flavors of your lasagna!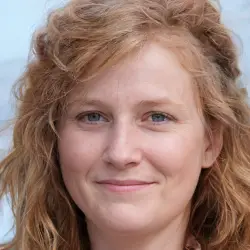 Latest posts by Rachel Edwards
(see all)