When it comes to the holiday season, the turkey is the star of the show – and rightfully so! However, do you know what could transform your juicy, moist turkey into something extraordinary? The perfect wine pairing!
Choosing the right wine sounds as simple as dropping into your local liquor store and grabbing one off the shelf, however, this isn't the case.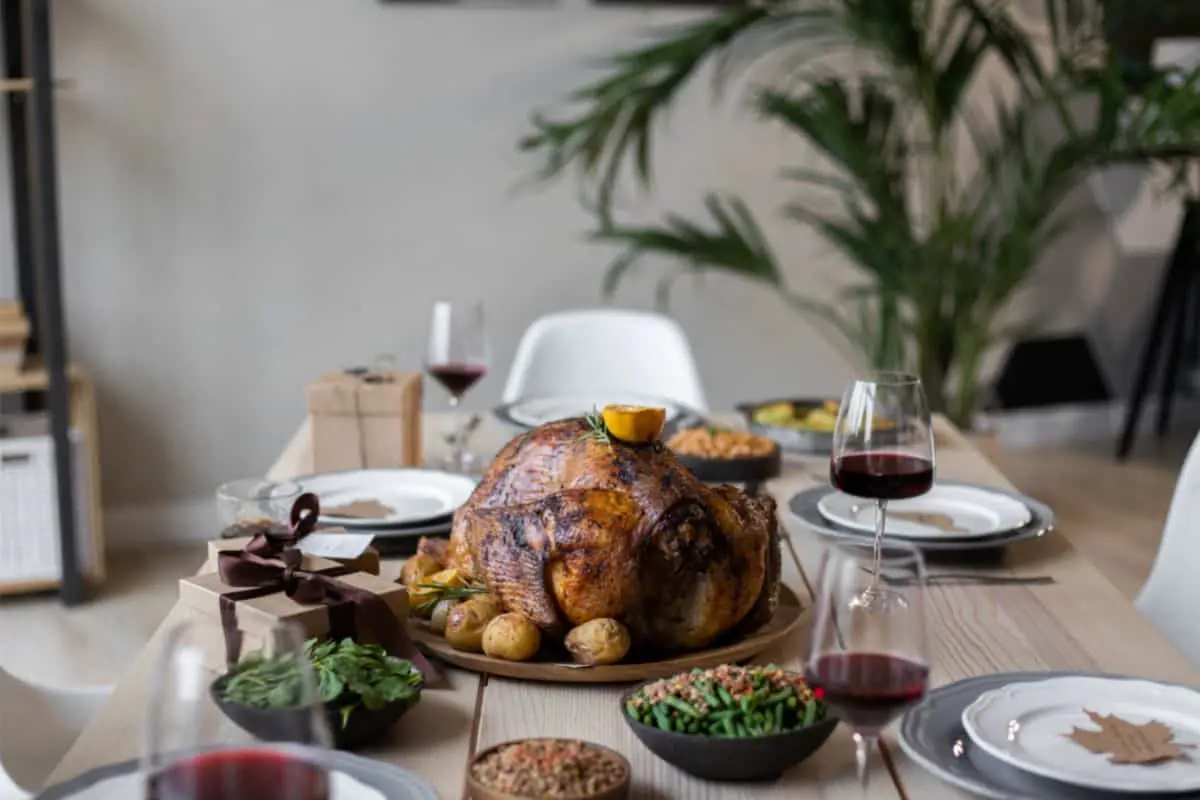 From undertones, ingredients, and flavors, there are a lot of different aspects about a particular wine to keep in mind when choosing the perfect turkey pairing.
However, don't worry, we're here to help. In this article, we will be exploring the best wine to pair with your turkey. Instead of deflating your turkey flavors, these wines will help elevate them!
Let's get straight into it!
Which Wine Pairs With Turkey: Red Or White?
Either red or white wine can make a lovely accompaniment to your turkey dinner. Although, since turkey has a low-fat profile, choosing a red or white wine that can amplify these flavors is beneficial.
Anything that overpowers the flavors of the turkey will likely create an underwhelming dining experience.
Regarding turkey pairings, full- to medium-bodied red wines containing high acidity and low tannic activity are the best.
What Wine To Pair With Your Turkey?
Since white meat contains a low-fat content, it can dry out quickly if not cooked properly.
For the perfect addition to your meal, you'll want a red wine that is light-to-medium-bodied or a full-bodied white wine, containing high acidity and subtle tannins.
That being said, you shouldn't feel intimidated to try different flavors. The juicy and succulent flavors of turkey match perfectly with several grape varieties, including Viognier, Chardonnay, Pinot Noir, and many more.
Below, you will find a detailed account regarding each wine pairing.
Pinot Noir
When it comes to red wine pairings and turkey, Pinot Noir is the real deal! It contains earthy, bright acidic flavors that are not only incredibly versatile but pair perfectly with tender meat.
In addition to working with your turkey dinners, it also makes the perfect pairing for other courses, too.
The earthy expressions found in Pinot Noir are contrived from the Old World regions, famous for soil, forest, and mushroom undertones.
If you prefer to have your red with a more fruit focus, then you should opt for a New World Pinot Noir from either Australia or Oregon.
Viognier
While Viognier may not be as popular as Chardonnay, it still makes a wonderful addition to your turkey meal.
The wine itself contains juicy tones of florals, honeyed, and peachy overtones, perfect when paired with tender, moist poultry meat.
Viognier can be found all over the world, however, you'll find the best expressions located in South Africa, California, and France.
Chardonnay
When it comes to iconic wine pairings, you can't go wrong with turkey and Chardonnay.
The wine itself is crispy, containing juicy flavors from stone fruits, citruses, and tropicals. Plus, there are mineral undertones, too, which elevate the turkey flavors.
Here, you can pair both Old and New World expressions with your turkey dinner. This could include bold and lush tropical fruit flavors or citrus-driven flavors with a distinct minerality.
Whatever you choose, just know that Chardonnay makes a perfect accompaniment to your Thanksgiving dinner.
Best White Wine Pairings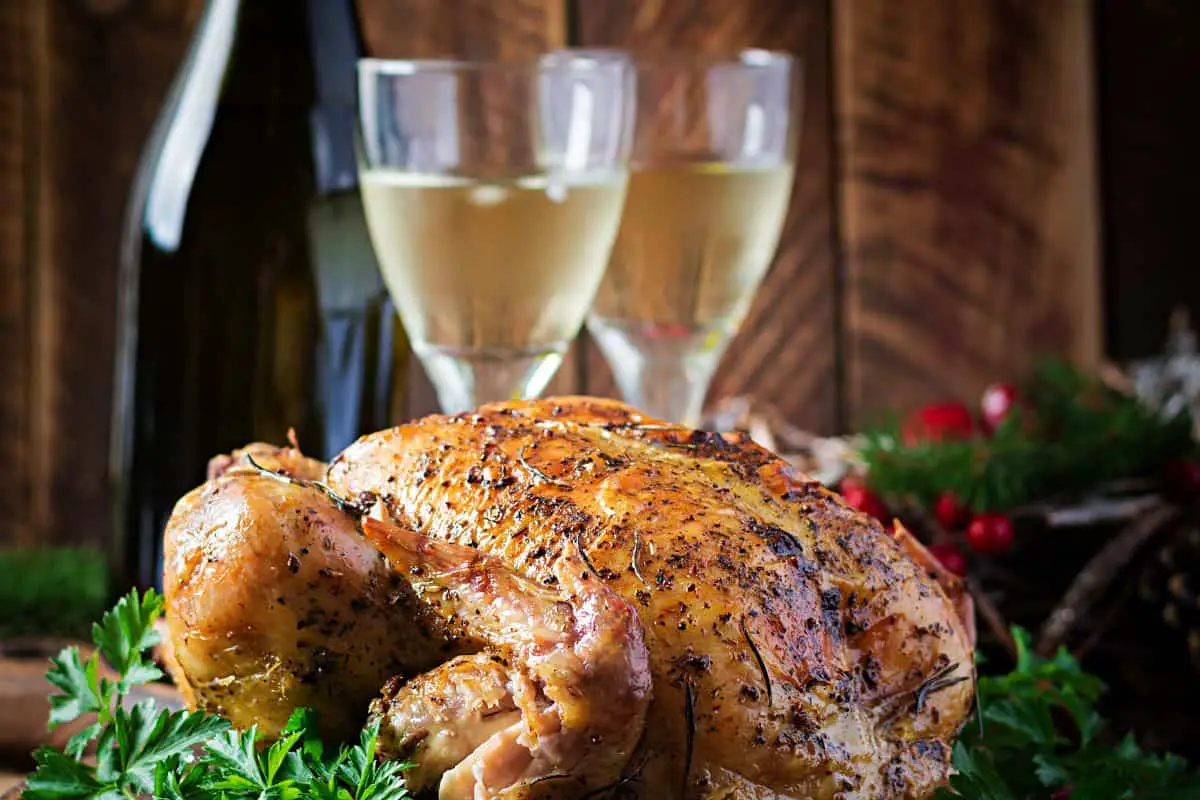 Pine Ridge Chenin Blanc – Viognier
Tasting Hints
Flavors of apples, orange blossoms, melons, and apples on the tongue is followed by racy acidity, creamy textures, and tastes of tropical and stone fruits,
Bold and crispy, this flavorful blend opens the nose to honeysuckle, orange blossom, peaches, melons, and apples, with undertones of jasmine and grapefruit.
The wine itself is medium-bodied containing a bright palate that is both mouthwatering and showcases the pineapple, apricot, guava, and nectarine flavors perfectly.
Here, the tangy acidity stimulates the palate, while the soft hints of ginger, pears, and tangerines, deliver a clean but long aftertaste.
Biodiversity Advocates
As of 1978, Pine Ridge Vineyards have been producing high-quality Cabernet Sauvignon from the Stags Leap District.
Its name comes from the ridge of pines, where the vineyard is located. Pine Ridge Vineyards owns different estate vineyards across four appellations over Oakville, Napa Valley, Carneros, Rutherford, and Howell Mountain.
In addition to this, this winery is Napa Green certified, meaning that it ensures the crafting and biodiversity of its wines are expressive of the area.
Sonoma-Cutrer The Cutrer Chardonnay
Tasting Hints
Here, comforting notes of apples, peaches, and pie crust are enhanced with hints of nuts and baking spices. Moreover, a creaminess to the wine provides a mouthwatering experience – with a pleasant and rounded oak aftertaste.
Medium-bodied and rounded, this Chardonnay features vibrant aromas of pears, apples, apricots, peaches, vanilla spice, and nuts.
You're left with a palate that is both delicious and creamy. Here, flavors of pineapples and cantaloupes interlink with tastes of butter, minerals, and Meyer lemons.
Not only is the balanced acidity refreshing but helps to balance the ripeness, too. As you come to the end of your drink, you're left with lengthy flavors of smoke and clove.
As a result, this Cutrer Chardonnay may be the best white wine to pair with Turkey.
Tradition And Innovation Combine
Sonoma-Cutrer has been in the business for 37 years. During this time, they have made a name for themselves by choosing quality over quantity.
Indeed, their winery even has a reputation for manufacturing high-quality Chardonnay and Pinot Noir through using traditional winemaking methods with a combination of Californian innovation.
Best Red Wine Pairings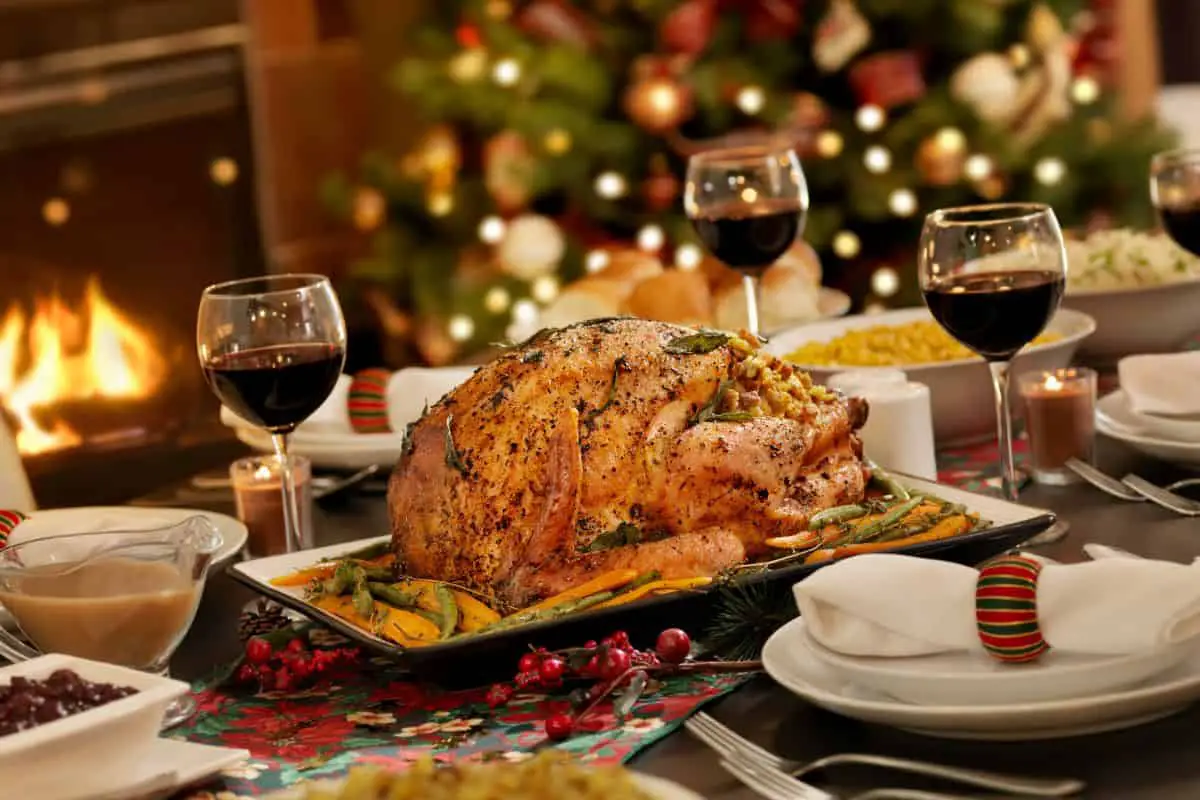 Alchemist Pinot Noir
Tasting Hints
Manufactured with passion and care, this Pinot Noir is bursting with incredible flavors. Fresh and bright aromas of red cherries and berries combine with dark fruits and chocolate for the perfect balance of flavors.
Vibrant nuances are highlighted in the Alchemist Pinot Noir, including cherries, raspberries, blueberries, and grapefruits.
At the same time, you'll experience subtle scenes of game meat and soil – helping round out the palate.
Plum, blackberry and licorice flavors combine with tobacco, prunes, and figs, for a tannin contribution that has tons of depth. The acidity is fresh and bright, which is welcoming to the palate.
Alchemy
Operating for over 14 years, the alchemist is a family-owned winery that produces delicious wines with as minimal intervention as possible – embracing the natural process of winemaking.
They strive to transform the humble grape into a delicious elixir.
Jean-Claude Lapalu Vieilles Vignes Brouilly
Tasting Hints
This heavenly wine is flavored with the aromas of cranberry and cherry. Plus, you'll also find delicious layers of raspberries, strawberries, hints of dried soil, and sweet spices.
All these decadent flavors come together to create an incredible Beaujolais. Before serving, this ruby-red wine benefits from decanting to help release all the flavors completely.
After allowing the wine to breathe for around an hour, you're rewarded with a bouquet of flavors, including cocoa, strawberries, clove, rosemary, cherries, tobacco, and cedar.
The palate features medium-to-full-bodied flavors, with vibrant, silky tannins, as well as a delicious oaky aftertaste – adding complexity to the mouthfeel.
These velvety tannins accompany the flavors of bread crust, raspberries, earth, and cinnamon spice excellently.
Grown Sustainably
Jean-Claud is open about its advocacy towards 100% sustainable viticulture, and Beaujolais is the perfect example of this.
Here, the grapevines take influence from the Mediterranean climate – ripening them to perfection. As a result of years of passionate winemaking, the results are Jean-Claude Lapallu's incomparable cuvees and high-end wines.
1000 Stories Zinfandel
Tasting Hints
1000 stories tells the tale of Bob Blue. Decades before, you weren't able to get wine barrels in the United States as easily as you could in Europe since most American oak barrels were used to store whiskey.
However, Bob required barrels to mature his wine, so, instead, he used bourbon barrels.
Now, you can easily obtain both American and French wine barrels in the United States. However, 1000 stories have continued its use of bourbon barrels as a nod toward how things used to be.
As a result, their wine contains a smoky, body, and distinctive flavors that sets them apart from others.
Bourbon-Fermented Wines
The wine itself contains a rich, warm-tasting profile that embodies rich and smoky flavors.
Here, you'll receive fragrances of fruits and red berries, including cherries, raspberries, and strawberries. Moreover, there are aromas of cloves, blueberries, and nuts, too.
As a result, you've been rewarded with a creamy and luscious wine thanks to the jammy blackberry combinations of caramel, cocoa, tobacco, and mocha.
The final fermentation period in the barrels means that the smoky, butterscotch notes are apparent here.
Final Thoughts
There is nothing better than eating your turkey dinner with a perfectly complimenting wine. However, in some cases, the wine you choose can either enhance your meal or leave a bad taste.
Hopefully, with this guide, you'll never have to experience this as we have outlined all the best wines to pair with your turkey.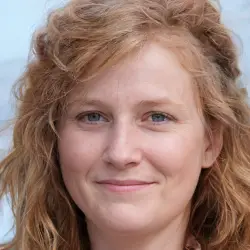 Latest posts by Rachel Edwards
(see all)