You might have made the perfect sangria, but you might not know what to pair it with. Well, you've come to the right place!
In this article, we have 10 foods you can pair your red sangria and 10 foods you can pair with white sangria with, so keep reading below to see what they are!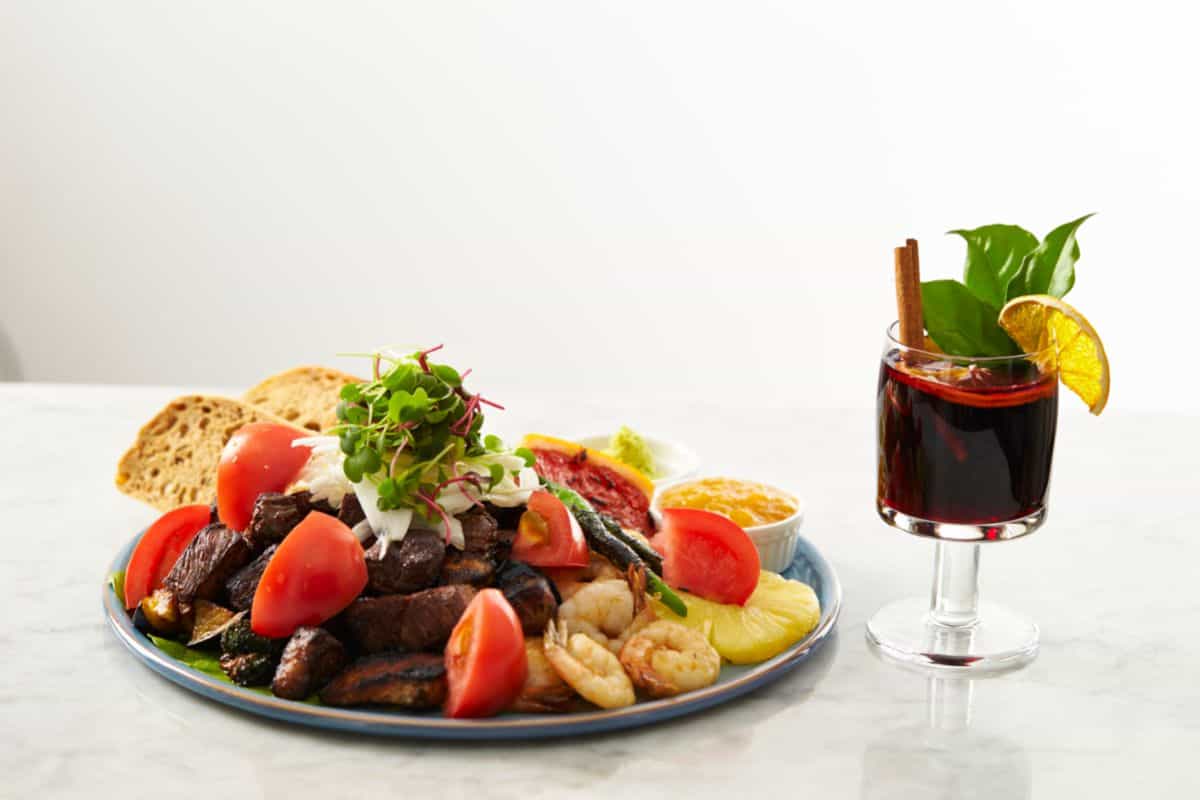 What Does Sangria Contain?
Sangria is a cocktail that uses wine as its main alcoholic base. The wine can be red or white and it is then mixed with some kind of fruit juice and fresh fruit that is either sliced or cubed.
Usually, the fruit juice is made with oranges and the fruits added are apples, apricots, pears, and oranges.
However, there are plenty of variations and different recipes that people use to make their own sangria, with one of the most popular additions being a sweetener.
Some people use sugar, others add syrups, while other people prefer zero-calorie sweeteners like sucralose and Stevia. Many people also add a liqueur to their sangria like brandy or cognac.
What Food Pairs Well With Sangria?
To begin, because sangria is usually made with red wine, it can be paired with a full meal and not necessarily snacks or appetizers.
Furthermore, because the fruits and other ingredients in sangria can render it much sweeter and fruitier, it can easily be accompanied by savory and spicy food to create a balanced taste.
Keeping that in mind, below are some fantastic sangria food pairing options you can choose from.
The 10 Best Foods To Pair With Red Sangria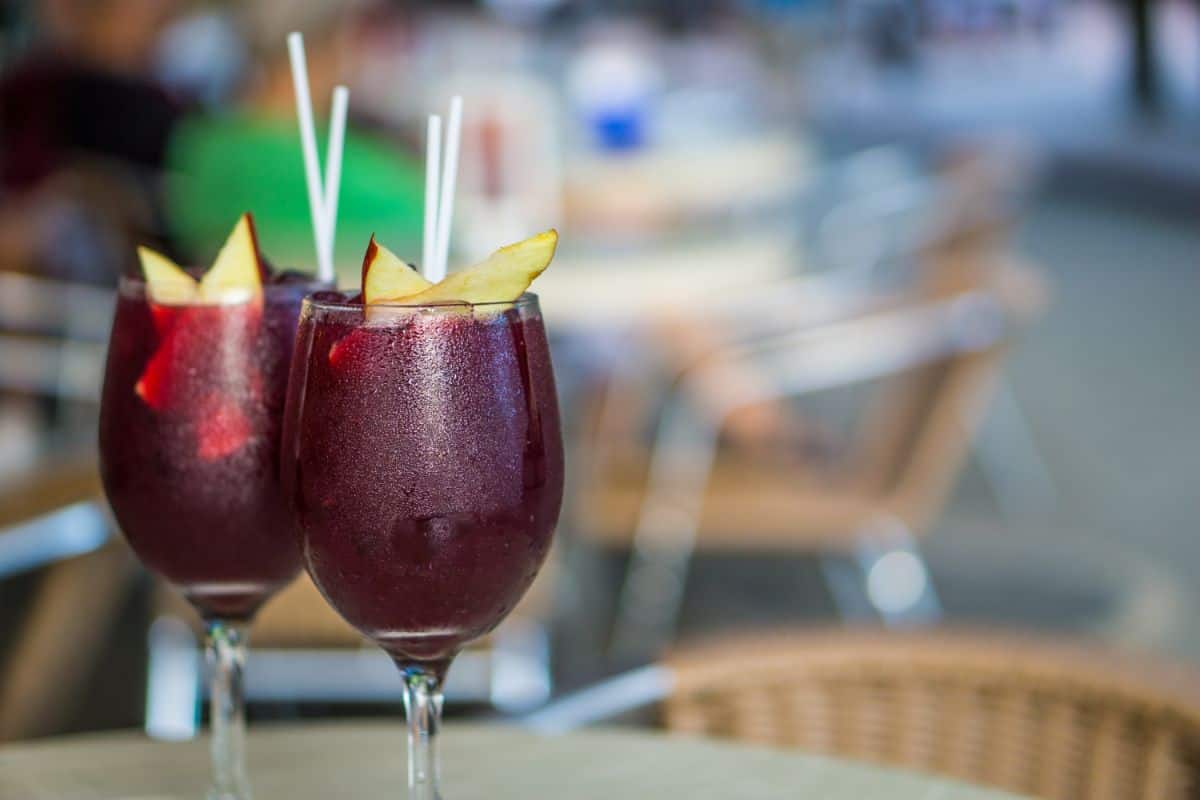 1. Steak
A top-sirloin steak or a fillet cooked any way you like is one of the best food pairings to a red sangria.
Red wine is great for accompanying cooked meats, and in this case, the sweetness of the red sangria can become an ideal match to a spiced, salty steak cut.
2. Chicken Fillet
Chicken fillets can be enjoyed both as an appetizer or as a main meal when paired with a side like a rich salad or potato variations like mashed potatoes, fries, or roasted potatoes.
3. Chicken Cutlet
Similar to steak, chicken goes great with red wine. Think of the pairing of a sweetened tomato sauce or chutney with a chicken cutlet and multiply that to get an idea of how much better sangria's sweetness can accompany the chicken.
4. Tapas
Sangria is a drink with Spanish origins, and it would come as no surprise if anyone told us that it was 'invented' as a cocktail pairing for the Spanish tapas.
These appetizers or snacks can be topped with anything you can imagine, but a glass of sangria can make them even tastier.
5. Chicken Empanadas
Chicken empanadas are another appetizer you can serve with your red sangria.
Crispy shells filled with chicken, chopped bell peppers, tomato sauce, and spices, are crispy on the outside, juicy on the inside, and delicious all the way.
6. Sweet And Sour Meatballs
To make a sweet and sour meatballs dish, you need to make a sauce that will consist of ingredients like ketchup, soy sauce, pineapple chunks, bell peppers, sugar, and vinegar.
Served warm but also enjoyed at room temperature, the sweetness of this dish can add more flavors to that of your sangria, whereas the sour taste will create the balance needed to not make you feel as if you are having a dessert!
7. Sizzling Sausage Salad
A salad made with sliced and cooked sausages, cherry tomatoes, cucumber, avocado lettuce, and a sweet mustard glaze is another amazing pairing idea for your red sangria.
Especially if you choose to keep your sangria simple and skip the added sugar, this dish will make your drink taste sweeter.
8. Goat Cheese Tart
Savory tarts can also accompany a jar of freshly made red sangria and satisfy everyone's palates. Filled with cheese that tastes as unique as goat cheese, there's nothing that can go wrong with this combination.
9. Pasta All'Arrabbiata
Penne pasta cooked with a spicy arrabbiata sauce and served with parmesan cheese on top is a hearty meal that you can pair with a glass of sangria wine for a dinner night with your partner or friends.
10. Cheese Platter
As you probably already know, cheese and red wine go hand-in-hand and cheese with a red sangria would, of course, be another great match.
Prepare a platter with all kinds of cheese types and varieties you want and enjoy!
The 10 Best Foods To Pair With White Sangria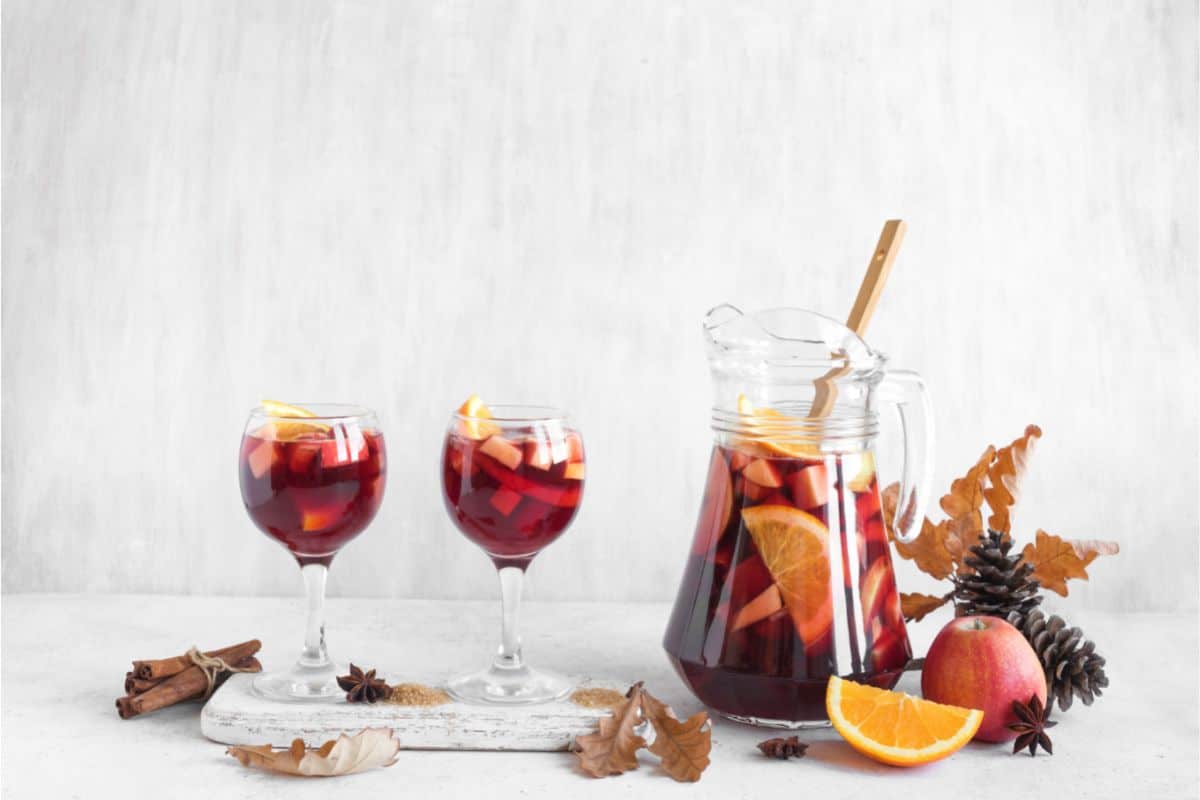 1. Creamy Pasta
Chardonnay pairs well with creamy, flavorful meals that are subtle enough to allow the wine's distinct flavor and body to prevail.
White Sangria is both fresh and sweet to drink, and it pairs well with some Alfredo Chicken Pasta. The creamy and cheesy sauce together with the juicy chicken slices and the al dente pasta goes great with the freshness of white, fruity sangria.
2. Lobster
Since seafood has long been a popular pairing with white wine, a sangria can become a perfect match to a lobster dish like a lobster roll.
The soft lobster meat has a lighter flavor, is ideal for counteracting the vibrant flair of the sangria mix and is sweeter than its crab alternative. That sweet taste complements the lovely flavors of the sangria!
3. Charcuterie Platter
Due to their salt content and smoky flavor, cold cuts pair really well with white sangria. Prepare a board of deli meats to go with your drink and other snack foods like cheese and nuts.
Serrano ham and prosciutto, as well as salami, are all excellent choices. A terrine or a pate will also provide a rich, fatty counterpoint to the sangria's sweet taste.
4. Grilled Calamari
For a taste of the Mediterranean, pair your white sangria with a plate of grilled calamari. If you have a BBQ grill, then you simply have to spend the weekend enjoying your white sangria with some freshly grilled calamari bites.
Serve them with lots of lemon juice and enjoy them either hot or cold. Either way, they will taste great and match perfectly with your sangria.
5. Pan-Seared Buttery Shrimp
Sauteed with butter and olive oil, pan-seared shrimp is another great match for your cocktail!
Cooked until brown, the shrimp is soft and juicy on the inside and crispy on the outside, offering the same mix of textures as the sangria wine, with its liquid wine and crunchy fruit.
6. Foie Gras
Foie gras is a sophisticated meal. It is rich and creamy, and its mildly metallic flavors demand a cocktail that can hold its own.
Citrusy, sweet, and flavorful, white sangria is exactly that, which is why it can be paired with a foie gras plate and wow you.
7. Caesar Salad
Even though chicken goes great with a red sangria too, Caesar's salad, with its creamy dressing and fresh veggies is better paired with white sangria.
8. Crab Cakes
Crab cakes go great with white wine and white sangria, with its sweetness, can make any sauce unnecessary and bring out all the flavors of your crab cakes.
9. Baked Loaded Potatoes
With lots of cheese in them, baked potatoes are so delicious on their own that you might think it can't get any better.
But when you pair them with a fresh white sangria, it becomes unbelievably good.
10. Apple Pie
A white sangria can be served with apple slices and other fruits, so why not serve it with a slice of apple pie?
Both fruity and sweet, they are a perfect pair if you want to enjoy your sangria with a dessert!
The Bottom Line
Red or white, sangria is a refreshing, sweet, and delicious drink that you can pair with any of these foods and enjoy on a sunny day!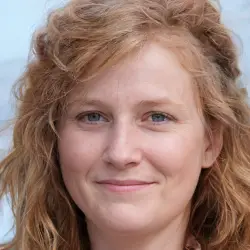 Latest posts by Rachel Edwards
(see all)